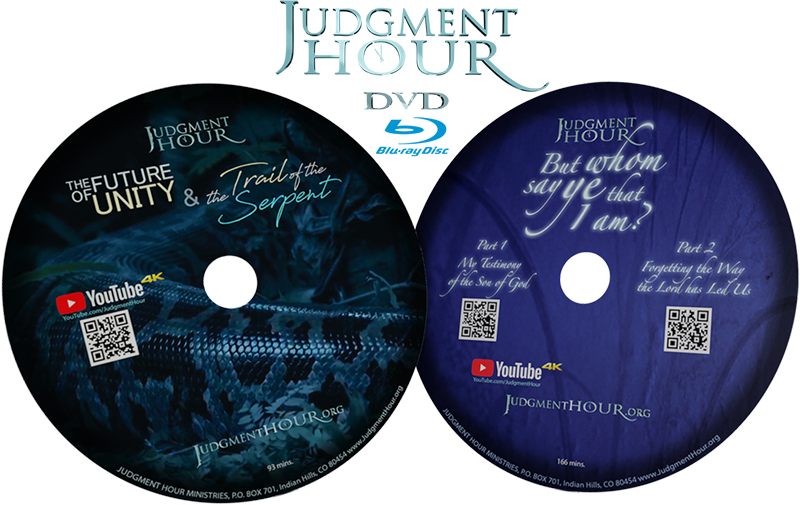 After the release of "The Future of Unity & the Trail of the Serpent" there have been many requests for DVDs of videos produced by Judgment Hour. By God's Grace and with the generous financial support, the equipment and software necessary to produce these discs was acquired.
After many many setbacks and problems with wrong deliveries, faulty hardware and software problems as well as technical issues and setbacks getting an online store setup, I'm happy to say Judgment Hour is finally ready to receive orders. Thus far, "The Future of Unity & the Trail of the Serpent" and the two-part series "But Whom Say Ye That I Am" are both available on DVD and Blu-ray disc formats. While low resolution, DVDs are great for sharing as many people have DVD players. Blu-ray discs are High Definition (1080p) and are therefore optimal and especially great for projecting on a wall or large TV for group settings so long as you have a Blu-ray player.

The response from these videos has been overwhelmingly positive. Several who have been Adventists for many decades have said they have seen hundreds of videos on these subjects, but these three videos produced by Judgment Hour were said to have been inspired and the best they've ever seen. All praise and honor be to the Father and Son! It is a blessing to hear from several whose eyes have been opened to see and understand these issues. God is working mightily to set this light before His people, and the encourage those who have accepted this light to step out in faith and proclaim it boldly. In the future more products will be added such as the videos from the selfless series. For now, it is my hope and prayer that these videos will be a blessing to you and to those with whom you wish to share them.
The videos may be ordered from https://www.JudgmentHour.org/store/
Volume discounts are available on the purchase page.